I'm a bit of a curious cat when it comes to online escort booking services. So it was inevitable that I would try Smooci the moment I got a chance, given its popularity. That chance arrived with my trip to Bangkok, and I'll tell you all about it in this Smooci review!
During my stay, I wasted no time booking a gorgeous girl to get laid, and Smooci made the process seamless. In fact, the process is as easy as hiring a cab from Uber!
So today, I thought I'd help out others looking for reliable escort services! I'm going to tell you all about how Smooci works and its many features. I'll also explain how you can book girls on the site and whether it's truly worth it or not, so read on!
What is Smooci and How Does it Work?
Smooci is one of the best escort booking platforms available in Thailand, particularly in Bangkok. Since its establishment back in 2016, the site's popularity grew through the roof. So much so that it is now available in many countries and cities, like Manila, Bali, Singapore, Tokyo, and more!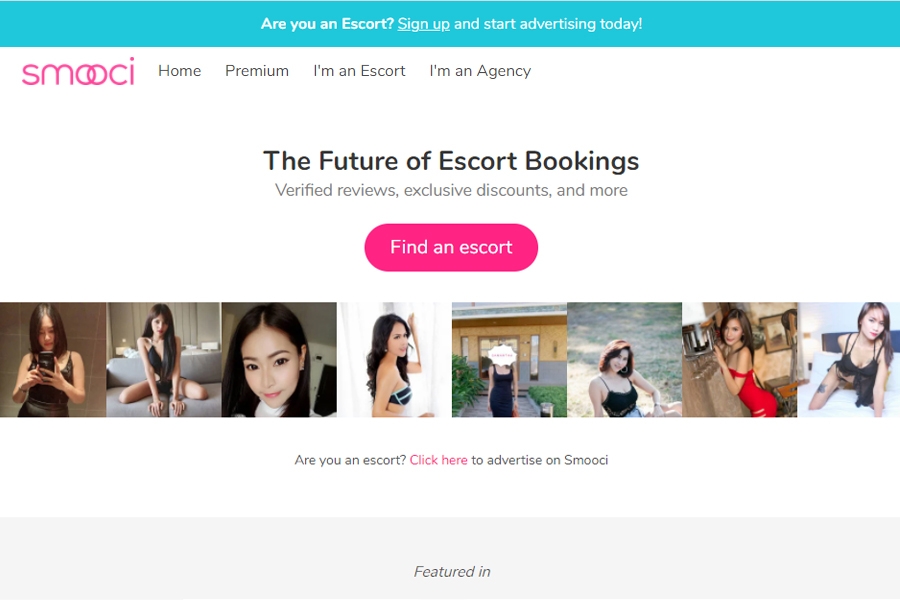 The site lets you connect with several escorts, including independent girls and ones from reputed agencies. You can even find transsexuals if that's your preference! However, one thing to note is that Smooci isn't an agency, so the escorts aren't under their employment.
You'll likely have no problems using the site since it functions just like any other dating platform. The escorts all have profiles that you can view for information, including names, age, pictures, hourly cost, ratings, and even height!
Once you find an escort you like, you can book them instantly! Through Smooci, you can set a fixed meeting time and guide your companion directly to your location. The site will then contact you for confirmation on the girl you ordered.
During the call, you can even provide specific instructions on what you expect the girl to do. Smooci will then update you regarding your visitor's current location and the time by which they'll arrive.
When you book a date, there is an agreement between you and the agency or independent escort you choose. So you can reach out to them directly for any amendments or even a cancellation.
How to Book an Escort with Smooci?
One unique feature of Smooci is that it uses API to connect with its escorts. The web app is aware of who is online and available and provides you the same information! The booking process is pretty simple and remains the same no matter your location.
So in this section of the Smooci review, let's see how you can book a girl for a good time!
Step 1: When you open up the smooci.com, a prompt will request you to choose your current location.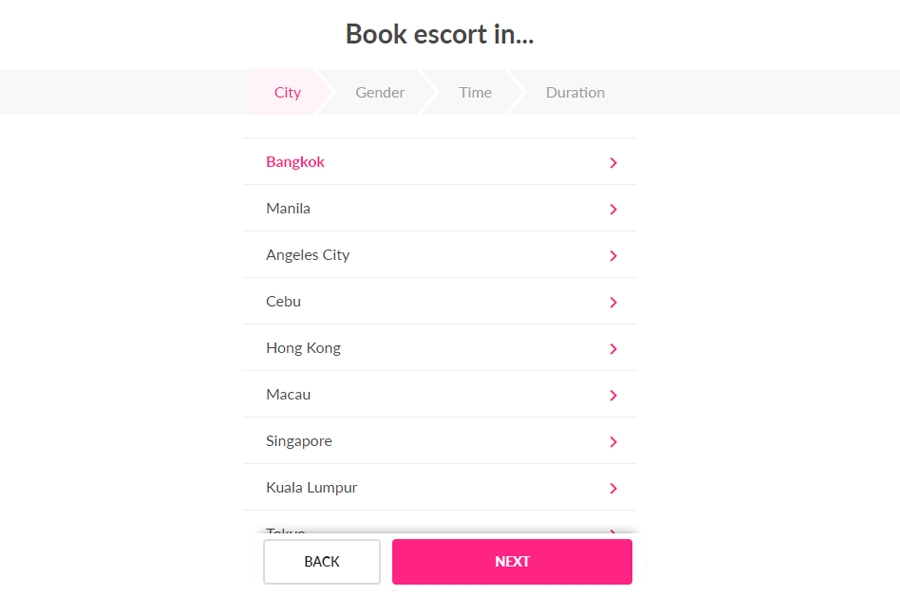 Step 2: After you choose your location, another prompt will ask you about your escort preference. You can choose between females and transsexuals.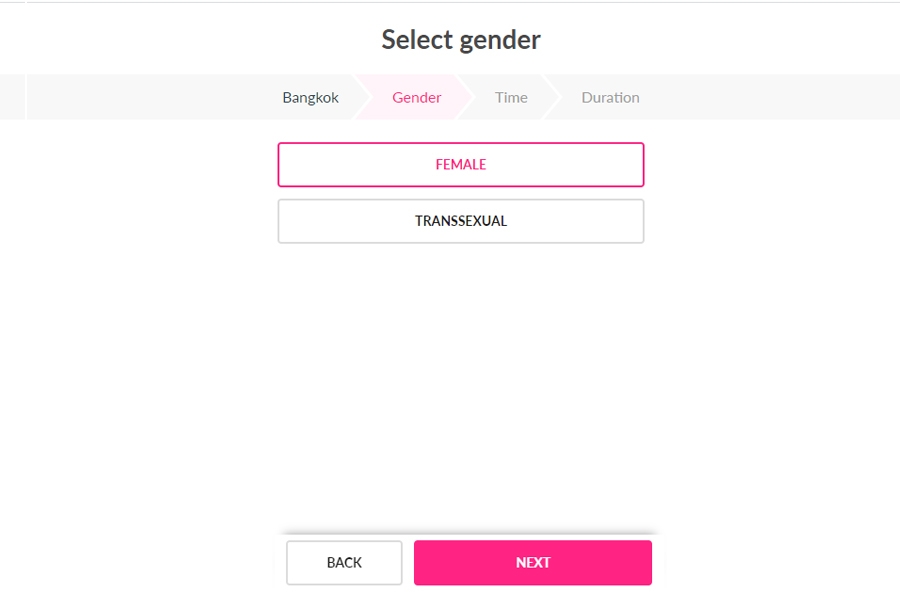 Step 3: Then choose a time limit for how long you would like your escort to keep you company. You can book a companion for anywhere between 1 and 24 hours.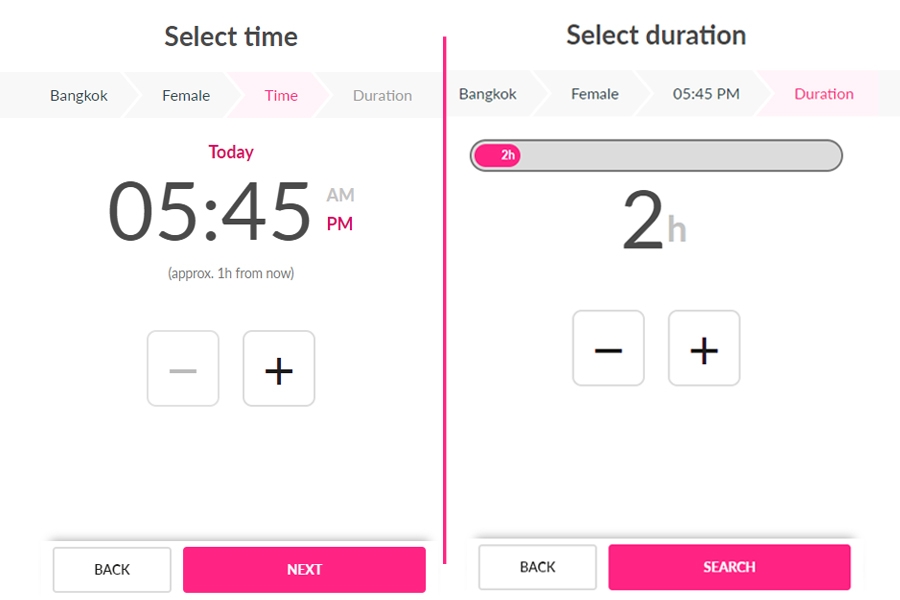 Step 4: Here's a tip from personal experience: the longer the time limit, the less you pay!
Choose the time by which you want your escort to show up at your location. You could even ask her to meet you at a restaurant before heading back for a steamy session in your room.
Step 5: Smooci offers several filters that you can use to your advantage. When you set up filters, the site will shortlist girls that match your criteria. So this increases your chances of finding an escort that lives up to all your fantasies!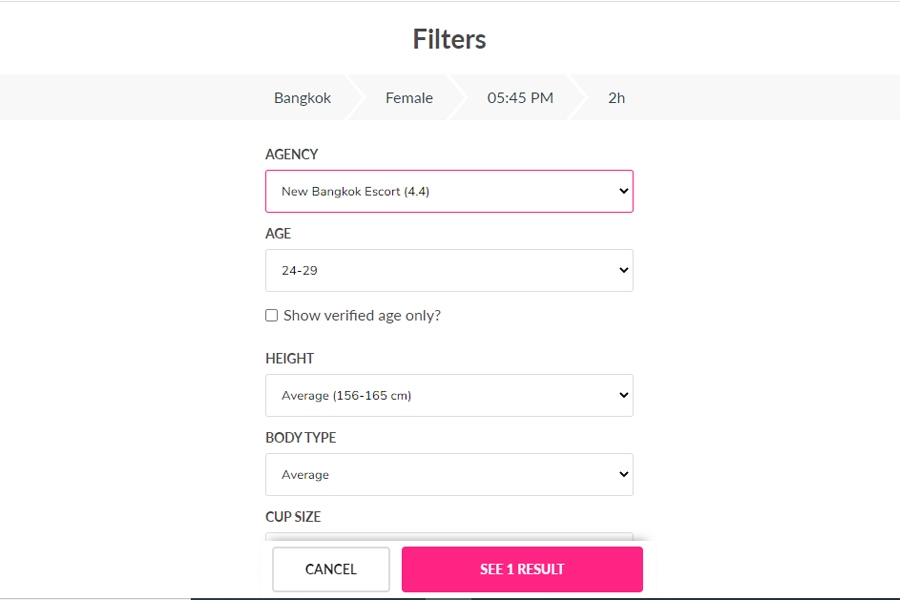 Step 6: Browse through the girls' profiles. If someone piques your interest, you can click on their profile to find out more. You will then be able to see information on what services she offers as well as her charges.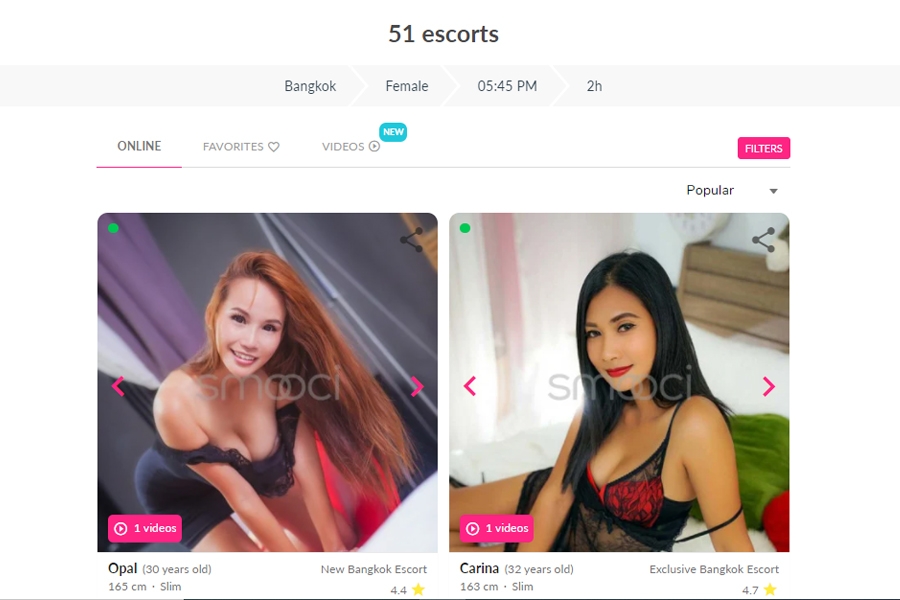 Step 7:Share your location to book an escort, and ensure you include your room number if you're staying in a hotel. Smooci takes care of everything else! The app sends you a live location tracker for your visitor, so you can easily get ready for her arrival.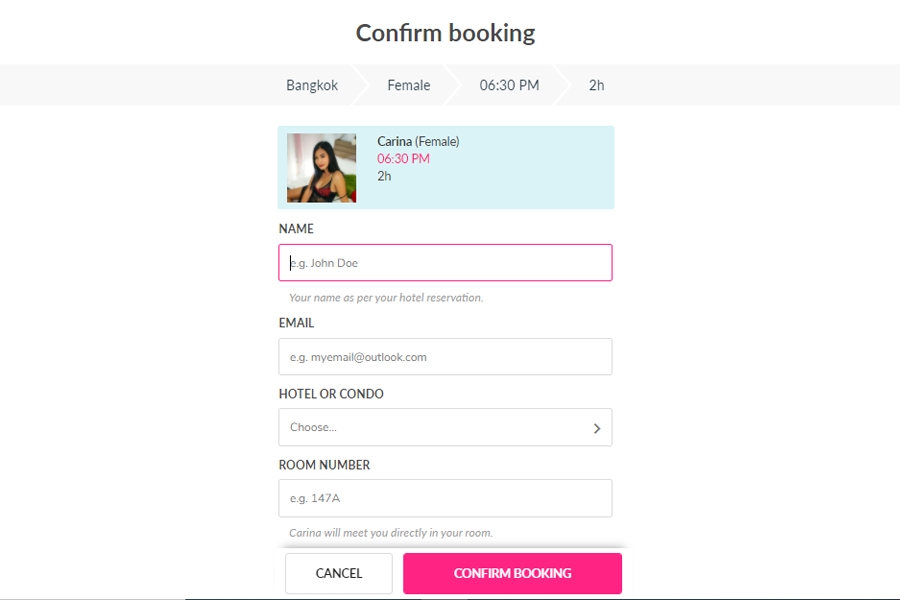 I Booked A Girl From Smooci — My Experience
Smooci's massive collection of escorts, popularity, and customer loyalty had me intrigued for a while. So I decided to try it for myself while I was visiting Bangkok, and I was not disappointed.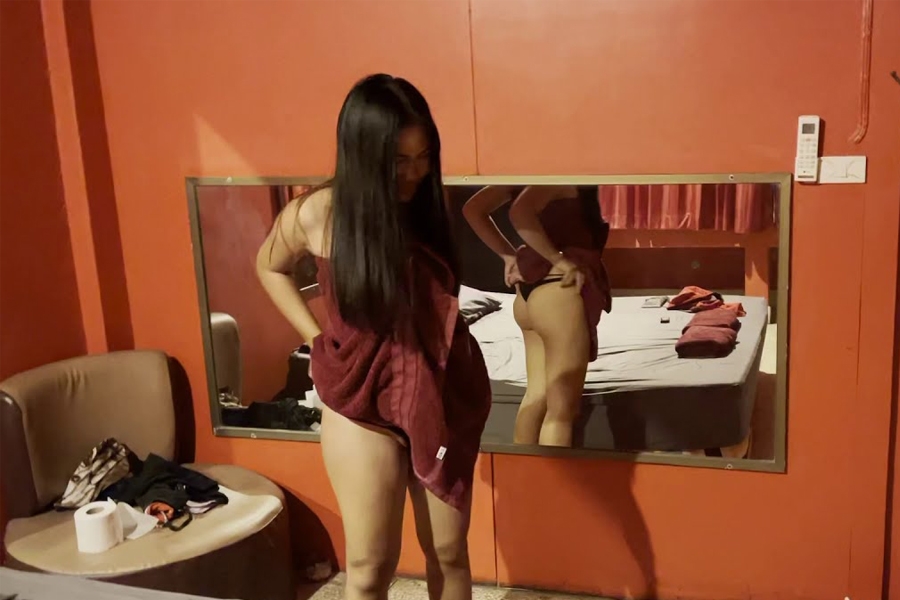 With the Premium Smooci version, I was able to book a gorgeous Thai spinner to show up at my hotel. She was at MBK center, which was only 10 minutes away from my hotel, and she arrived perfectly on time.
As part of my request, she showed up in a bunny girl outfit. Also, she was equally willing to fulfill other wishes I had, including massages. Apart from that, she was just a nice girl to talk to. Overall, I had a positive experience, and I would highly recommend Smooci to others!
Features of Smooci Escort Booking Site
Smooci has all the features to leave you completely satisfied, pun intended. On a serious note, though, the site wouldn't be one of the best in Thailand without good reason. Here are the features Smooci users enjoy.
Extensive Collection Of Girls
Smooci is especially popular because of the vast collection of escorts it offers. The site's collection may very well be the largest in Bangkok! This makes finding a sexy girl who's available for some fun even easier.
Top-Rated and Verified Girls
Smooci is very selective about the escorts on its site. So you'll find only the best girls from top-notch agencies here. Also, the escorts are always photo-verified. So fake photos or photoshop need not be a concern.
24/7 Service
Smooci's services are available 24 hours a day and seven days a week. So no matter what your location is or what type of girl you're looking for, Smooci can fulfill your needs.
High-Quality yet Affordable Services
Escorts on Smooci never fall short of their promises. You'll surely feel like a porn star by the time you're done! Not to mention, the experience comes at pretty reasonable rates compared to escort agencies.
Live Location Tracking
Once your escort booking is confirmed, Smooci immediately sends you a live location tracker. That way, you can know your girl's location and just how long it will take her to arrive.
Home Delivery
Smooci eliminates the need to go out and look for girls yourself since the escorts arrive right at your doorstep.
Special Requests
Escorts on Smooci are always willing to fulfill special requests. You can either use filters to find a kinky profile or directly ask a girl that interests you.
Smooci Premium Membership Benefits
Smooci offers two memberships, standard and premium. The standard version allows you to go through with the booking process. However, Smooci's premium version comes with a ton of additional features. This section of the Smooci review covers the premium membership features.
User Reviews Access
This exclusive feature allows you to view comments about an escort left by verified customers. Reviews give you better insight into a girl's performance and minimize the chances of post-payment disappointment.
Photo Verification
Smooci allows users to vote on escorts' pictures to confirm they are real. Only premium members can see these votes and reduce the chances of an unpleasant surprise turning up at their door.
Advance Booking
Standard members can make advance bookings, but they are limited to four hours. As the premium tier, though, you can book up to 24 hours in advance!
Shorter Booking Times
Smooci requires standard members to book escorts for a minimum of two hours, which is not always convenient. If you would prefer a shorter time, opt for the premium membership. It has an option for one-hour bookings too.
Live Chat
This exclusive feature allows you to communicate directly with the escort. That way, you can confirm whether the girl will be willing to fulfill your special requests. You may even be able to bargain with her on prices!
Age Verification
Escorts often have an age-verified seal on their profile. However, these seals are only visible to premium members.
Notifications
With this feature, premium members can receive notifications whenever offline girls are back online.
Discounts
Best of all, premium members receive an automatic discount on every booking!
Pricing
Smooci's standard version does allow you to complete a booking for free. However, you can be much more selective in your search with a premium membership. That way, you're more likely to find an escort who will make your wildest dreams a reality!
What's more, all the advantages of Smooci premium come at very affordable rates! Here's an overview of the pricing plans for all you are doubting Thomases.
3 Days – 9.99 USD
One Week – 14.99 USD
1 Month – 24.99 USD
1 Year – 99.99 USD
Is Smooci Worth It? — My Verdict
Yes, Smooci is not only worth it, but it is the best escort booking site in Thailand! From this Smooci review, you'll see that the site is both easy and efficient. Also, Smooci does a ton of verification, which is amazing given the safety issues in escort services.
Besides, the benefits of Smooci's premium memberships are near unbelievable! It lets you find your dream girl to live out your fantasies with and do it at a super-affordable rate!
The flexibility and freedom Smooci gives to participating escorts are also praiseworthy. After all, that's not something you often see in escort agencies. All in all, Smooci has set the benchmark for existing as well as upcoming escort booking sites!