The Netherlands sex guide provides all the information you need to get laid and have an amazing time in the Netherlands. The Netherlands, which sits in northwestern parts of Europe, is a world-class destination for sex tourism; its capital Amsterdam is known as the sex capital of the world, its famous red-light district.
The culture, language, and people of the Netherlands are called Dutch. The country boasts of rich cultural heritage and a booming adult entertainment industry. The Netherlands is home to the finest nightclubs, brothels, massage parlors, sex theatre, strip clubs, and enchanting hot chicks.
Netherland cities are always bubbling with exciting adult entertainment. Little wonder why millions of sex tourists troop into the country to satisfy their sexual fantasies. This Netherlands sex guide advises you on the best place to pick girls for sex in the Netherlands.
Sex in the Netherlands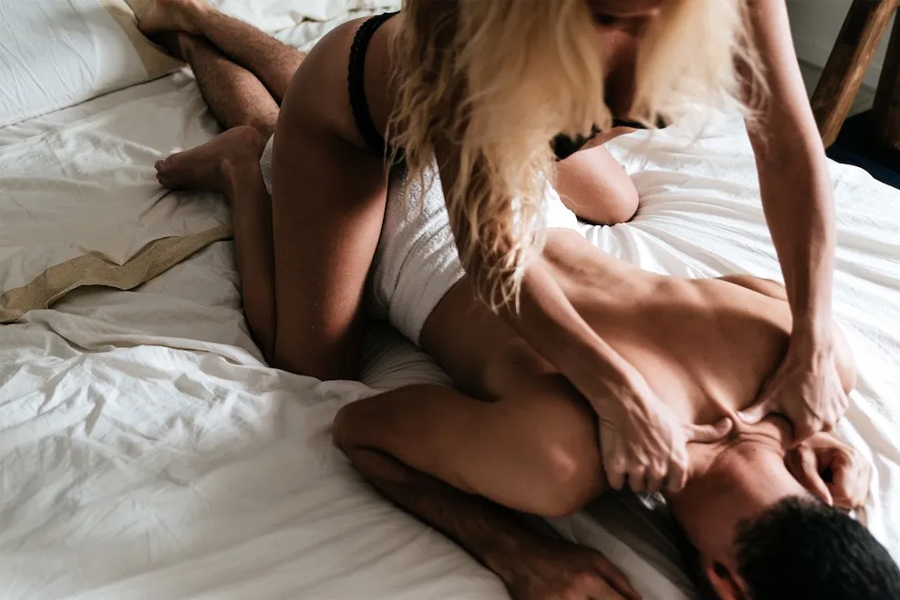 The Netherlands, also known as Holland, has 17 million people known for their open-mindedness and tolerance towards sex and sexual diversity. The Dutch have been open to sex education from childhood. In fact, it's normal to find a sex theatre beside a kindergarten school in the Netherlands.
The Dutch loves sex and like to explore different sexual desires. The Netherlands is a major place to experience sexual freedom in the world. The country is home to the famous red-light district where sex and marijuana are legal.
Red light district Netherlands is always bustling with adult entertainment activities, sex street hookers, and fun-seeking locals and tourists alike. There are 12 cities with red-light districts in the Netherlands with hundreds of girls and trans girls as sex workers. Amsterdam has two Red Light Districts.
The famous Amsterdam red light district (De Wallen) is the largest in Amsterdam with close to 400 sex workers, best pubs, nightclubs, brothels, sex theatre, 5D porn cinema, 3D printed bridge, strip clubs, massage parlors and always swamped with street hookers (including transgender people).
Is Prostitution Legal in the Netherlands?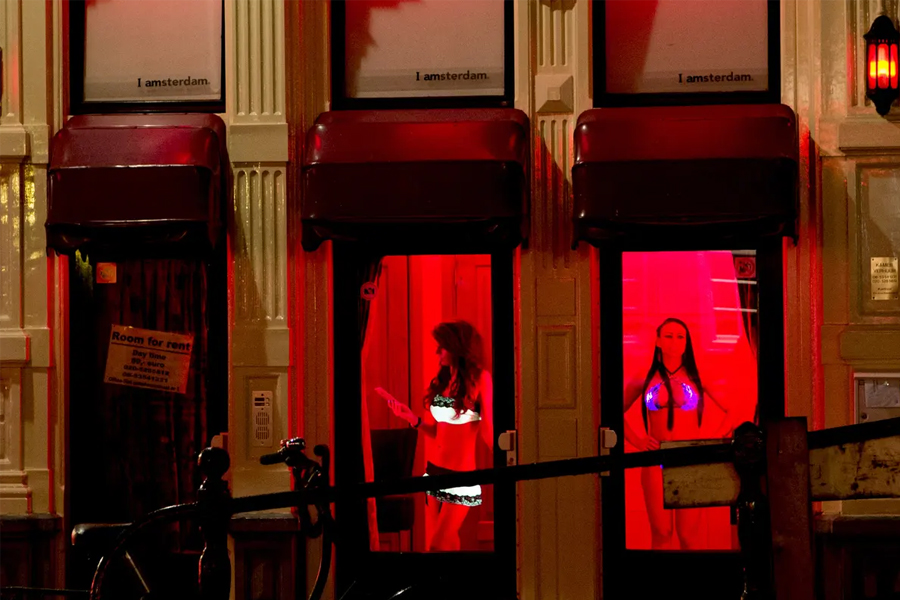 Prostitution is legalized and regulated in the Netherlands. By lifting prohibitions on prostitution in 2000, the Netherlands government gives sex workers more autonomy over their profession, improves their labor conditions, eliminates illegal exploitation, and reduces criminal activities.
Legal prostitution in the Netherlands is categorized into window prostitution, private clubs, private houses (sex club with a bar), brothel, and escort agencies. Before sex establishments in the Netherlands receive a license, they must show measures to provide safe, hygienic working conditions for their sex workers. This will safeguard the health of the sex workers and the clients.
Netherlands prostitution law strongly prohibits underage girls from prostitution. All prostitutes – independent or those working at brothels must be 21 years old or above to get a license to operate as sex workers. With this, you can be sure you are not having sex with underage sex workers.
The Netherlands prostitutes figure is estimated to be around 20,000 to 30,000, of which around 60% are foreigners. The red-light districts in the Netherlands are designated venues for prostitution and adults entertainments by the local authorities.
There is no fixed rate for sex workers charges in Netherlands red light district. Most sex works are set based on duration and the services offered. Sex workers in the red light district charge €50 for short basic service (15 – 30 minutes).
Girls in the Netherlands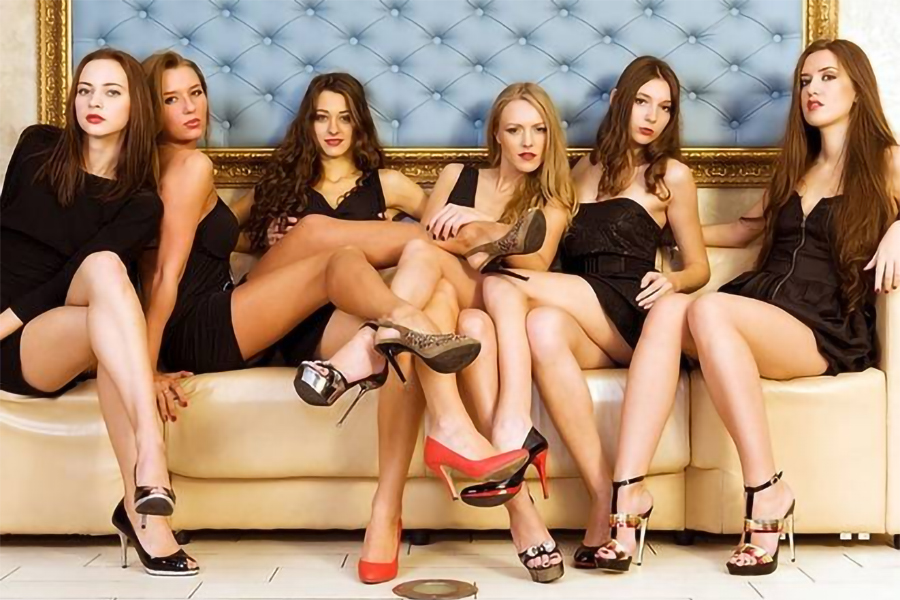 Most Dutch girls are usually white-skinned with blue or light eyes and blonde or brown hair. Netherlands girls have the supermodel look and gait. Netherland girls are typically tall, lean, and extremely beautiful. Their height is mostly between 5'5 and 5'7.
Dutch girls don't dress too flamboyantly. They look stunning in a moderate yet attractive dress and natural look. You can rarely come across some Dutch girls with olive skin.
Values and Sexual Attitude
Netherlands girls are primarily friendly, honest, assertive, and strong-willed. They are usually smart, so you can't just approach them anyhow. To get the attention of Dutch girls, present yourself as a classy, confident, and not too stingy gentleman. Dutch girls love caring, lively and elegant men.
Dutch girls are not snobbish. Although assertive, they behave politely to strangers and could even give casual sex if they fancy you and don't act too cocky and domineering around them. Netherland girls dislike proud men who act macho towards them.
Most Dutch girls in their 20s and 30s are drawn to sexual exploration. So, they are open to sex. Some in marriage are also open to swinging activities. Once a Ditch girl feels comfortable with you, they're ready to give you a pleasurable moment on the bed. Netherlands girl's sex takes you to cloud 9.
Apart from street hookers, Netherlands girls are not easy to pick on the street for casual girls, but you can meet sexy young Netherlands girls on dating sites or arrange meetings with hot Netherlands call girls through escort sites.
You shall be intimated with the best online dating sites and escort sites to meet stunning Netherland girls for hookup and sex later in this Netherland sex guide.
Sex Life and Hookup Culture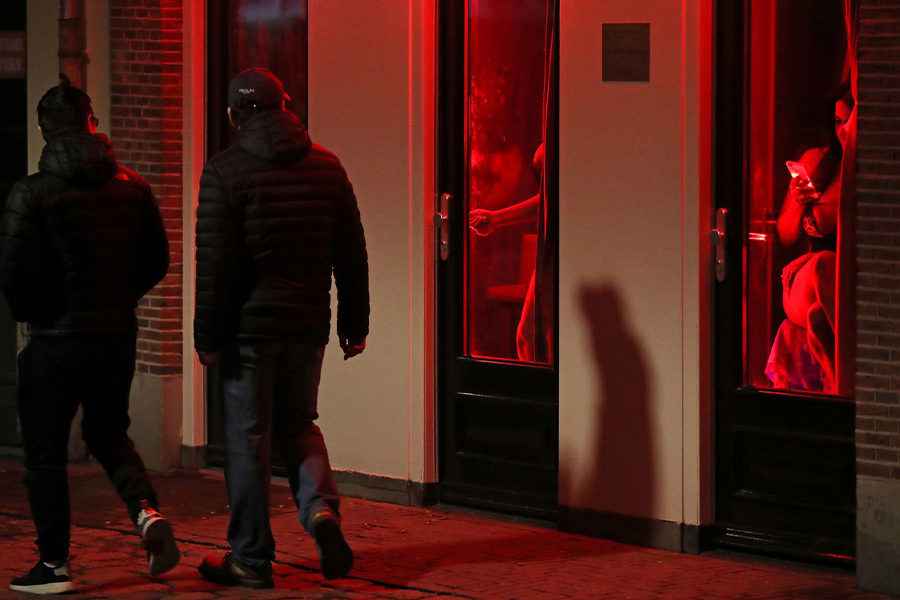 Dutch people are always open to discussing sex and tolerate different sexual orientations. They're not too religious and conservative, so sex is normal to them. The Dutch are always open to discussing or even having casual sex with strangers.
Dutch people are warm and hospitable to tourists. They view casual sex with strangers as normal as long as it's consensual. They don't judge sex workers and people (single or couple) with multiple sexual partners. That is why there is a large community of sex workers, swingers, and queers in the Netherland.
How to Pick Up Girls?
Netherlands cities are sex havens if you know the right direction to find the girls available for sex. That's why I shall explore this part of the Netherlands sex guide. The best places to meet and pick girls for sex in the Netherlands are dating websites, escort websites, sex clubs, strip clubs, and massage parlors.
Online Dating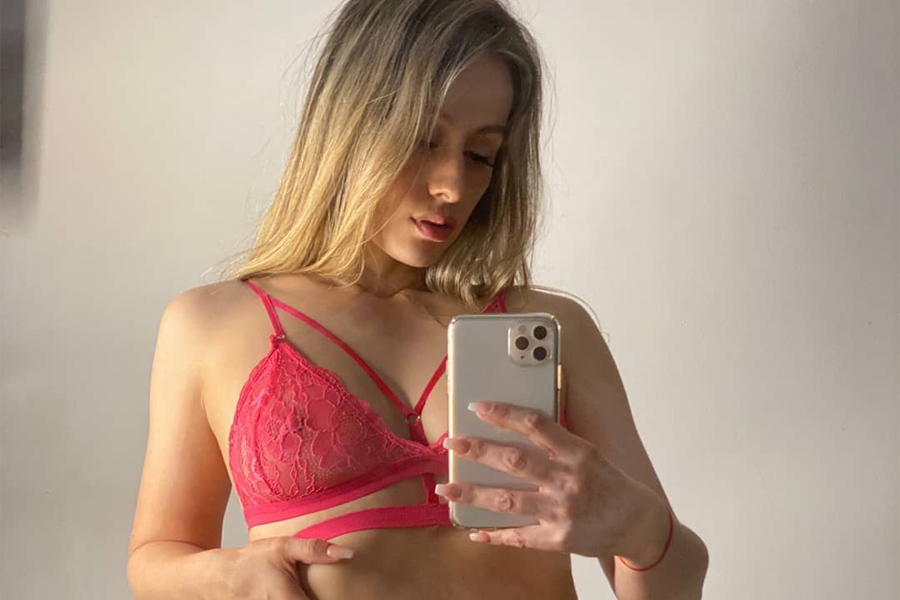 Online dating sites are the easiest way to find charming Dutch girls ready for sex. Here you can check out different girls to select the one that suits your fancy, then arrange a meeting for hookup.
This Netherlands sex guide recommends using adultfriendfinders.com, one of the best online dating apps to alluring Dutch babes. With adultfriendfinder.com, you can meet your desired Dutch girl and schedule a meeting before you arrive in Netherland.
Meanwhile, if you are looking for something beyond casual naked dating Netherlands, you can use the best dating sites in the Netherlands to find a companion or partner. There are thousands of single women and girls in Netherlands cities looking for a partner.
You can find your desired partner on dating sites like Tinder, Happn, Couchsurfing, Badoo, and grinder(guy hookup site). Your Netherlands dating may result in potential marriage; you never can tell.
Sex Club – Swinging and Parties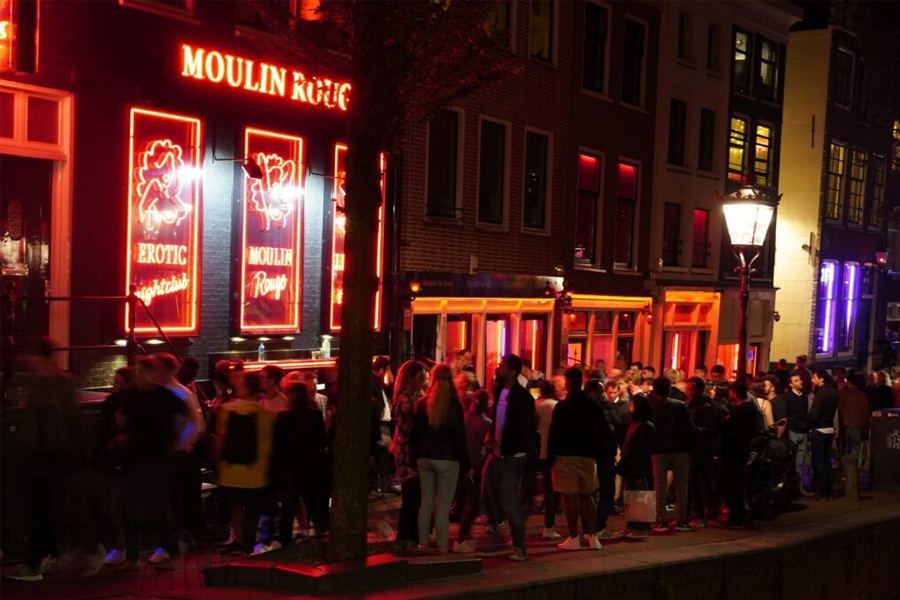 Since people have an open mindset about sexual activities in the Netherlands, it's very easy to find swinger clubs that constantly host swinging parties. Most of the swinger clubs in the Netherlands host swinging parties and activities that feature a disco, sauna, and intense sex.
Several famous swinger clubs can be found in Amsterdam, but some of the best Amsterdam sex clubs include:
Club Paradise
Situated in the north of Amsterdam, it welcomes single men, women, and couples to their swinger's parties. Club Paradise has a full-sized heated pool, a sauna, Turkish bath, and a large relaxation area. There are also private playrooms, a small bar, and smoking areas. The price range for the venue includes couples, €50; Single ladies, €25 and single guys, €80.
Sameplace
It is located west of the city, a short walk from the Anne Frank House. The swingers club has a dungeon with toys and furniture for group play like a glory hole and sling. The sameplace club opens every day. For more information about prices schedule and theme dress http://www.sameplace.nl/
Showboat
A two-deck swingers venue that offers a fun-filled erotic night out. The lower deck is a dungeon, sauna/steam room, and jail cell with a shop selling naughty toys, while the upper deck has a huge dancefloor and bar. The club opens Thursdays, Fridays, Saturdays, and Sundays. The entrance fee is free for couples and single ladies.
Likewise, if you are in Rotterdam, the best swingers club to catch fun is Fun4Two swingers club located at Middelweg 18, 2841 LA Moordrecht, Netherlands. The Netherlands club has themed rooms like a police station, dentist, bakers, etc.
Ultimately, you can find another splendid swinger club in Moordrecht, just 18km away from Rotterdam. This swinging club is popular among tourists.
Strip Clubs

Strip clubs are a core part of the Netherland's fantastic nightlife. You can find several top-notch Amsterdam strip clubs at the red light area close to Oudezijds Achterburgwal. The top strip clubs in Amsterdam are La Vie Deux, located at the south of the red light district, and Banana Bar and Club is situated at the center of the red-light district.
Rotterdam also has some of the finest strip clubs in the Netherlands. Best strip clubs in Rotterdam are Bubble Erotic Cafe at Henegouwerlaan 48a Rotterdam and Club OQ at S-Gravendijwal 115 3021 Rotterdam. Some of these strip clubs in Rotterdam provide brothel services. And at a cheaper rate.
However, if you want to experience Dutch strip at its finest, you should visit the city of Utrecht, where you can find irresistibly hot strip dancers at an affordable rate. Other smaller Holland cities also provide quality Dutch strip at a less expensive rate.
Note that Dutch strippers are all about providing you unforgettable experience because strip clubs in the Netherlands work based on the "Champagne System" (commission-based). So, it's best to pay your charges in advance; else Dutch strippers will milk you dry with their stellar erotic performance.
Escorts in Netherlands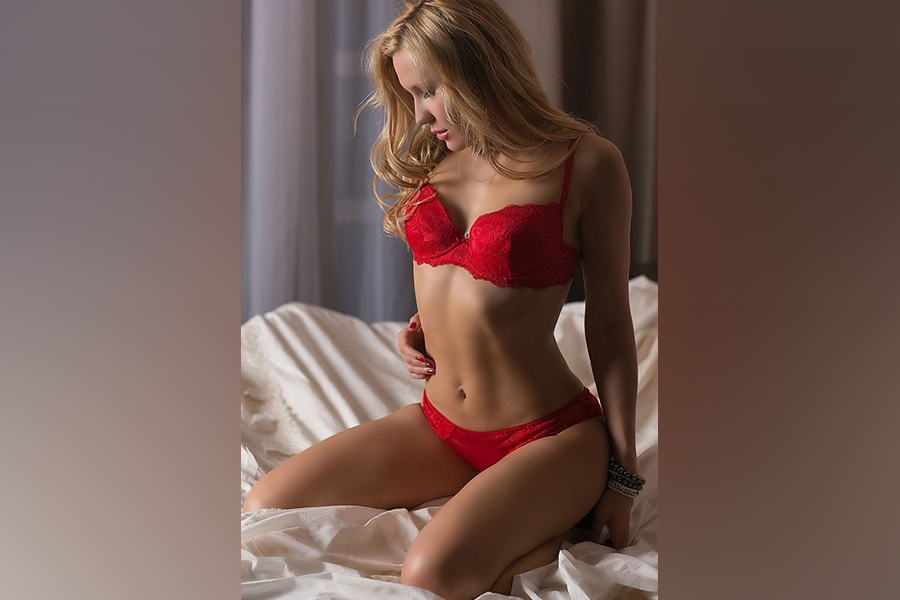 Escorts in the Netherlands are usually smart friendly come in different shades of beauty and age. Netherlands call girls offer both outcall and incall service depending on how you like it. Some Netherlands escort girls work with escort agencies, while others work as independent escorts.
Escorts in Amsterdam always charge higher than other Netherland cities call girl. While other cities call girls could charge less than 100 Euros for an hour service, Amsterdam call girl charge starts at 150 Euro or more for an hour.
One of the best escort websites to find sexy call girls in the Netherlands is happyescorts.com. The site provides different escorts, among which are bisexual. The site connects you with sexy escorts in Holland. Additionally, the site provides extra features like fuck now, sex for free, live escort, meet and fuck and escort dating.
Hotels for Sex in Netherlands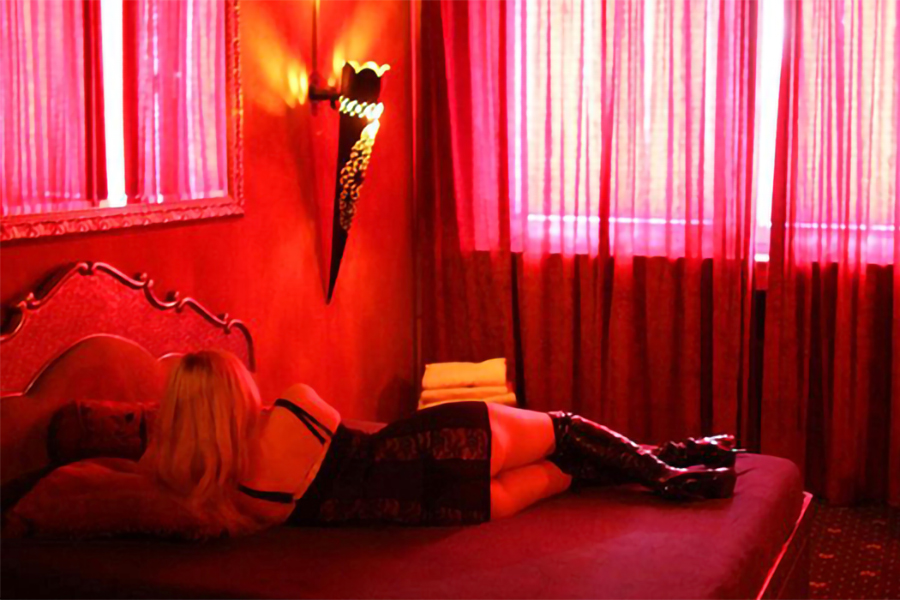 The Netherlands is known globally for its sex liberty stance, making it attract sex tourists worldwide. The best place to stay for single-sex tourists or couples is a comfortable hotel located in the lively part of Netherlands cities.
Amsterdam's best area to stay in is the Megkongweg District or the Witte de Withstraat. Some of Amsterdam's best girl-friendly hotels are Art'otel Amsterdam, Canal House, and Van Der Valk Hotel Almera. Similarly, Rotterdam also has some hotels perfect for comfort and erotic adventure. Examples of best sex hotels include Hotel Bazar, EuroMast Hotel, and Room Mate Bruno Hotel.
These Netherlands hotels for sex all have well-equipped rooms, modern facilities, a relaxed atmosphere, and quality customer service. Hotels in Amsterdam are slightly more expensive than other love hotels in other cities of the Netherlands.
However, if you are a single man who likes to party and hook up with young Netherland girls, you can stay in popular hostels in Netherland cities that host all-night parties every night.
Brothels in Netherlands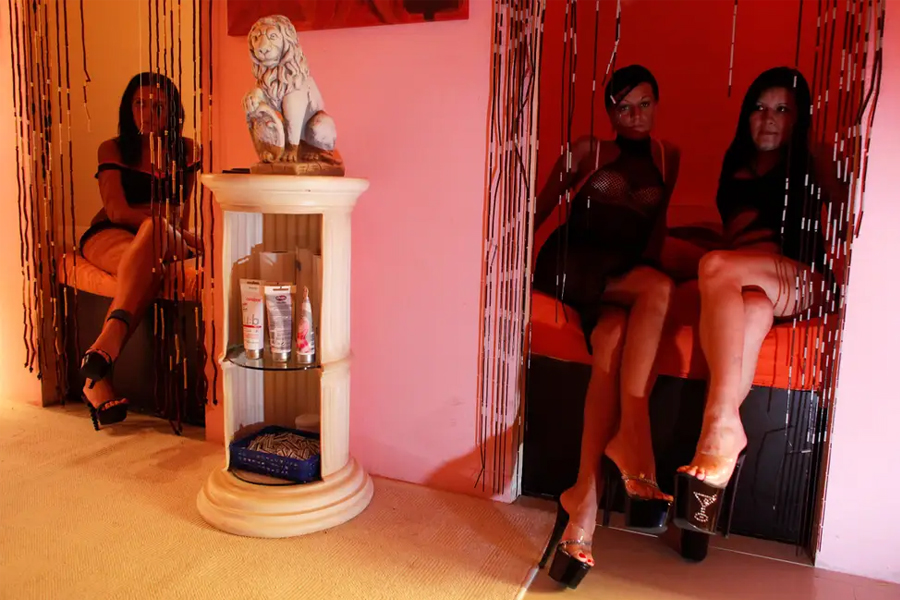 Netherlands brothels are mainly located around the red light districts across Netherlands cities. Netherlands brothels typically offer quality in-house prostitution to clients. From the waiting room to the service room, everything is done privately.
Brothels in the Netherlands provide erotic Massage, Full GFE, blow job, naked shower, BDSM plays, and many more. Some of the best brothels in Amsterdam are Club Luxury, Crystal Club, Club LV, Prive 44, and pack 118.
While in Rotterdam, top brothels there include Crystal Private, Desiree, Lust, Karin Home, Fantasy, Golden Sun, and Phoe Thai. These Rotterdam brothels are as equipped as those in Amsterdam yet cost less. Brothels in other parts of the Netherlands operate alongside other adults entertainments like nightclubs and strip clubs.
Erotic Massage Parlours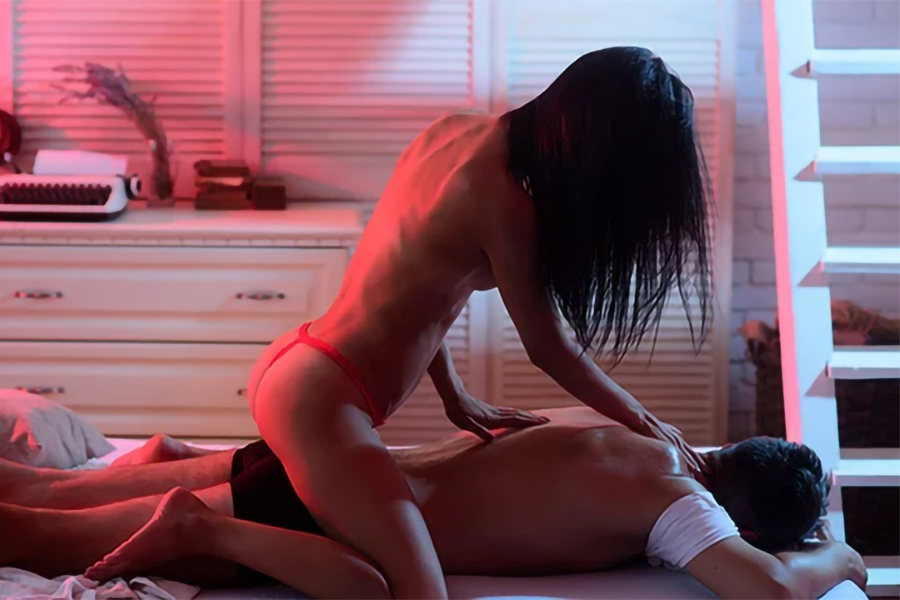 You can get an erotic massage in the Netherlands through dedicated erotic massage parlors, independent masseuses, escorts, and private houses. Some private houses specialize in Kinky massage with oral and intercourse, while others only offer a manual happy ending.
The massage may be performed either topless or nude depending on your preference and can include a full service based on your choice. Erotic massage parlors in Amsterdam charges more than other parts of the Netherlands. Amsterdam's massage cost is between €55 – 150 depending on the services offered. Popular massage parlors in Amsterdam are Walaphan Thai Massage, Dam Square Babes, Massage Company, and 24/7 Massage.
Other top massage parlors in Rotterdam, Zuid Holland, and other parts of the Netherlands are Tantric Retreat, Secret Agent Rotterdam, Korat Thai Massage, Sainam Thai Massage, and IIse Massage.
BDSM in Netherlands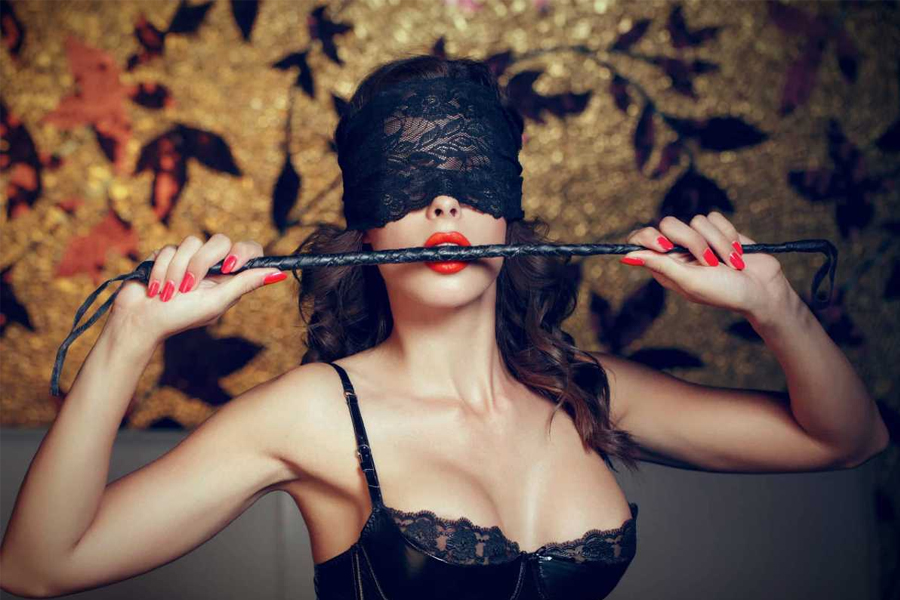 BDSM is very popular in the Netherlands, so it has a large community. There are several Netherlands BDSM clubs and bars. ALT.com is the best platform to connect with the large community of BDSM lovers in the Netherlands.
You can also find a new bondage partner in the Netherlands, discover new slave roles and engage in erotic BDSM, bondage sex or live sex date on ALT.com. The site contains thousands of BDSM lovers from around the world. It will help you locate those in the Netherlands.
How To Move Into Netherlands and Move on?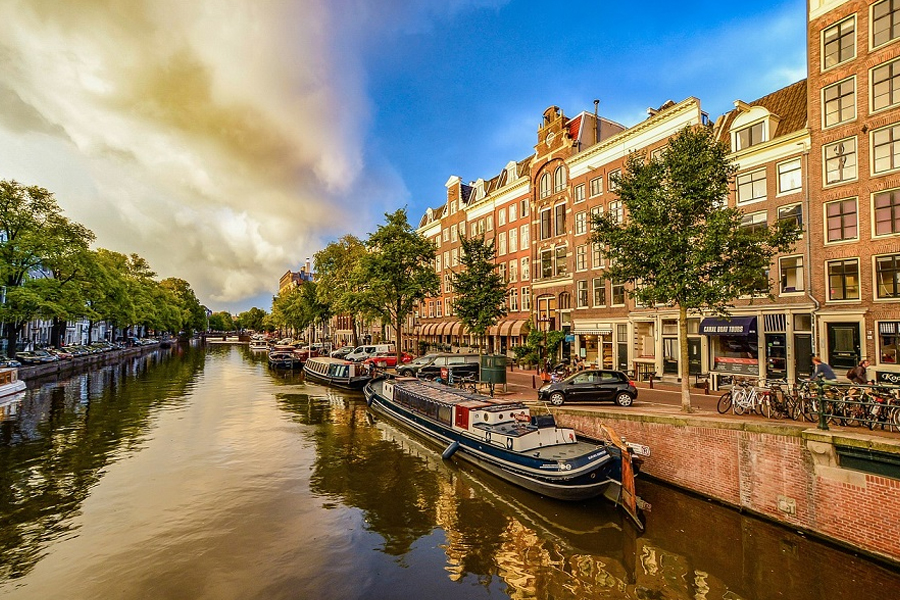 The best way for tourists to move into the Netherlands is by air, and The Amsterdam Airport Schiphol is the main airport in the country. Apply for a tourists visit if you require one to enter the Netherlands. You can then move around the cities of the Netherlands through tram buses, cars, trains, or boats.
It is the best move around in cars or taxis to reduce the risk of theft. You can as well explore the beautiful cities on boats. It is a romantic way to navigate Netherland cities, especially when not alone.
How to Stay Safe in This Tour?
Netherland is, to a large extent, a safe city. The crime rate in the country is generally considered to be low, but you still have to be cautious in cities like Rotterdam, Amsterdam, The Hague, and other large cities that are with pickpockets and bicycle theft.
Relate with locals to know some suburbs that are unsafe at night. Another precautionary step is to avoid keeping money in the back pocket and avoid picking a fight with locals. If you have any issues with locals, report to a nearby security agent.
Conclusion
The Netherlands is a great country filled with limitless sexual adventures for sex tourists. With this Netherlands sex guide, you can enjoy every moment the city offers. Bookmark this page as you make plans for your sex voyage to that amazing sex destination called the Netherlands.