Amsterdam, the capital of the Netherlands, is popular for its liberal-mindedness, glamorous nightlife, grandeur architecture, and historical sites. To have an amazing time in Amsterdam, you need to read this detailed Amsterdam sex guide. Amsterdam offers the world's finest brothels and sex shops, sex theatres, erotic massage parlors, strip clubs, arousing live sex shows, and irresistibly hot girls.
Tourists from around the world visit Amsterdam year-round for a fantastic and unforgettable sex experience. Little wonder why Amsterdam is otherwise called the sex capital of the world. If you visit Amsterdam without reading the Amsterdam sex guide for adequate information about the city, you might have a bad experience.
This Amsterdam sex guide is well-packaged to offer you reliable information on making the most of your visit to Amsterdam.
Sex Tourism in Amsterdam – Introduction
Sex tourism contributes a huge amount to Amsterdam's annual revenue. The city offers tourists all they need to experience their wildest sexual fantasies. Amsterdam red-light districts are major destinations for sex adventure, including solo getaways, sex vacations, and bachelor parties.
Sex in Amsterdam is no brainier. Irrespective of your sexual orientation, desires, and fancy, there's always something for you to have a delightful sex experience. Whether you're interested in straight, gay, lesbian, transexual, or bisexual sex, you can be assured of amazing sex in Amsterdam.
Amsterdam has a rich and colorful history of the sex trade. Amsterdam sex museum, De Wallen- the famous and historic red-light district, cafes, and shops are major tourist attractions in Amsterdam. Tourism in Amsterdam visits De Wallen whether they are actively looking for sexual services or not. The city is even better experienced at night.
This Amsterdam sex guide will help you understand how to have an unforgettable sexual adventure in Amsterdam.
Is Prostitution Legal in Amsterdam?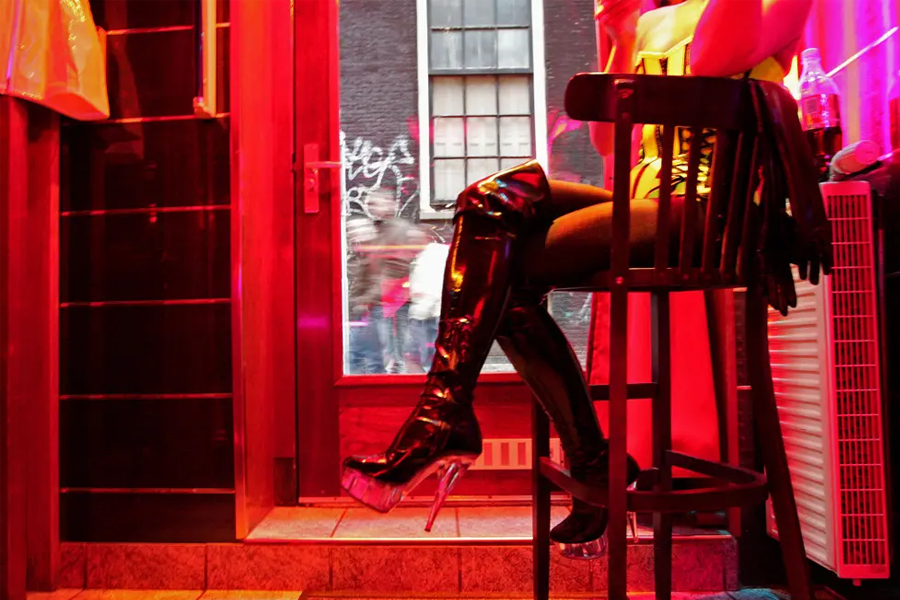 Amsterdam is one of the few cities in the world where prostitution is legalized and regulated. The Netherland law supports prostitution. By lifting prohibitions on prostitution in 2000, the Netherlands government gives sex workers more autonomy over their profession, improves their labor conditions, eliminates illegal exploitation, and reduces criminal activities.
Legal prostitution in Amsterdam is categorized into window prostitution, private clubs, private houses (sex club with a bar), and escort agencies. What legalized prostitution in Amsterdam portends for tourists is that it guarantee the safety of tourists.
This is because before sex establishments receive a license, they must have an approved business plan on file that shows measures for providing safe, hygienic working conditions for their sex workers and ensuring that they are healthy and independent.
Amsterdam's prostitution law strongly prohibits underage girls from prostitution. All prostitutes – independent or those working at brothels must be 21 years old or above to get a license to operate as sex workers. So, when you have sex in Amsterdam with Amsterdam licensed prostitutes, escort girls Amsterdam, or call girls Amsterdam, you be sure not to have sex with minors.
Amsterdam Red Light Districts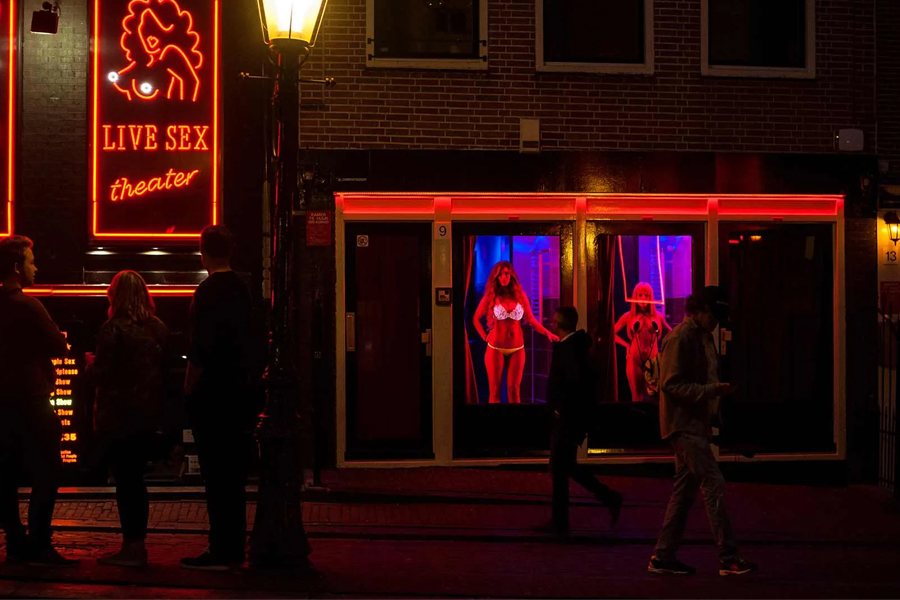 Amsterdam has three legalized red-light district areas. The first is the famous De Wallen, popularly referred to as Red Light Districts Amsterdam. The second red light district is located at Ruysdaelskade and has about 40 window brothels. The third red light district area can be found around the Singel and Spuistraat. Also, this area has about 40 windows.
De Wallen, which is the biggest and oldest prostitution area in the Netherlands, has 225 windows. These are divided over 17 alleys and streets. The windows are rented out during the day and evening, but not all at once. An estimate of around 375 sex workers is active in these red-light areas. The blue window indicates transgender sex workers. The red-light districts are always accessible 24/7.
The nighttime is the best time to visit Amsterdam red light. The red light illuminates the inky canal and makes the window girls more attractive makes you want to have carnal knowledge. But it's important to note that it's disrespectful to take prostitution pictures as you explore the area.
Also, drinking alcohol on the street of De Wallen or other red-light districts is prohibited, but you can smoke weed or cannabis outside. Amsterdam red light district has some of the best sex shows, strip clubs, 5D porn cinema, 3D printed bridge, coffee shops, and many bars and hotels. De Wallen houses the world's famous sex show, Casa Rosso Amsterdam. There are about six other sex shows in the district.
Girls in Amsterdam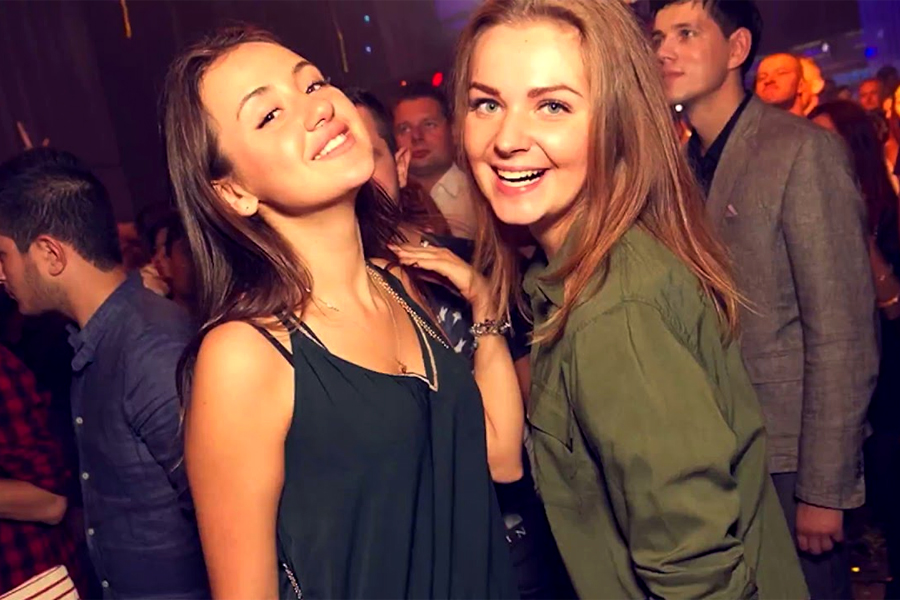 Amsterdam girls are often tall, blond or brunette, confident, exotic, and very charming. They are also friendly and adventurous so conversating with them is very easy and fun. They sure enjoy drinking, partying, and casual sex. Escort girls Amsterdam and call girls Amsterdam are ravishingly beautiful.
Dating Culture
Amsterdam girls are very liberal. They're very free with the opposite gender. So, Amsterdam girls feel comfortable with nudity and are eager for sexual adventures. Amsterdam girls are often direct and opinionated. Hence, don't see them as being rude. When they're drunk, you may expect aggressive behavior from them.
With Amsterdam being one of the world's fashion centers, Amsterdam girls dress fashionably and value luxury. Therefore, Amsterdam Seduction to Amsterdam girls has a lot to do with financial capacity than handsomeness. To charm Amsterdam girls, you need to be friendly, classy, and not too stingy.
Another key thing to note about Amsterdam girls in this Amsterdam sex guide is that they are not so easy to pick up in public places. You, however, stand a better chance of getting beautiful Amsterdam girls online through popular adult dating sites. Alternatively, you can also use top Amsterdam escort agencies to find exotic escort girls or call girls Amsterdam.
Getting Laid in Amsterdam
Sex in Amsterdam is the most exciting part of Amsterdam that sex tourists can't afford to miss. The fastest way to hook up and get laid in Amsterdam is through online dating, nightclubs, brothels, erotic massage parlors, among others.
Online Dating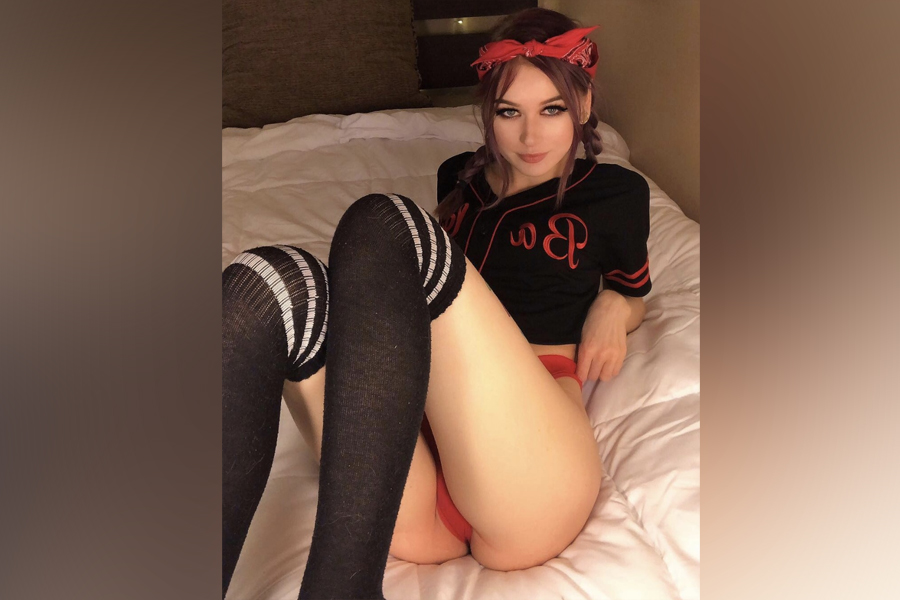 Online dating sites and applications are the best ways for tourists to find hookups or partners in Amsterdam. You can make use of adultfriendfinder.com to find sexy girls or escort girls in Amsterdam to get laid real quick in Amsterdam.
However, if you are not just looking for sex in Amsterdam and but a partner, you can use the best dating sites in the Netherlands. There are thousands of single women and girls in Amsterdam looking for a partner. You can find them on sites like Tinder, happn, Couchsurfing, Badoo, and grinder(guy hookup site). Your Amsterdam dating may result in potential marriage; you never can tell.
Window Girls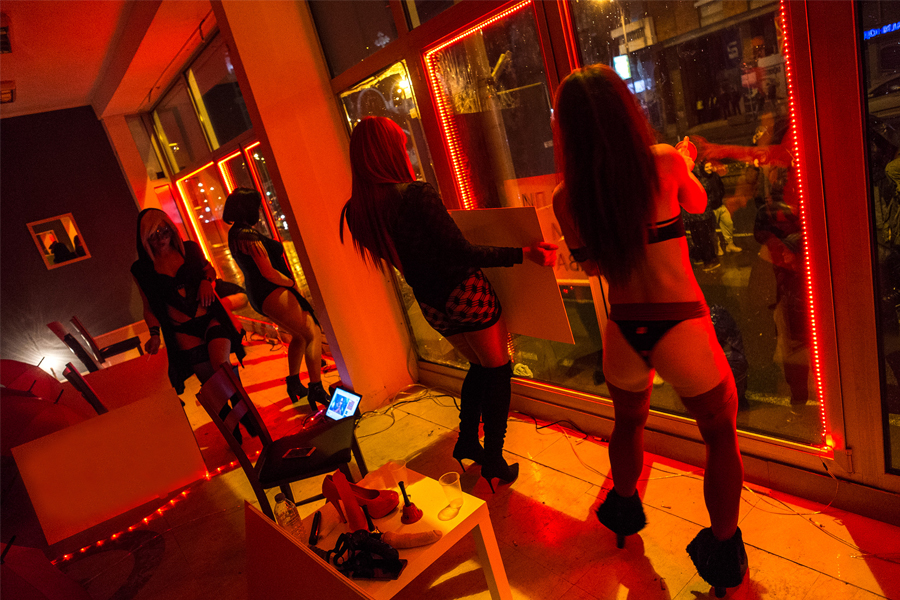 Your sex tour of Amsterdam is incomplete if you haven't caught a view of the enchanting Amsterdam window girls in the red light district. If you're too shy to watch Amsterdam window girls during the day, you can come at night to take a look. It cost around €50 for a quick 30 minutes view.
This covers you watching the window girl get undressed, shown with an elastic view on time. You can take the pleasure a notch higher through window shopping. This involves negotiating to the admirable glance of those who are too shy to do what you are doing. There are over 300 windows cabins around the three red-light district areas in Amsterdam.
Nightclub in Amsterdam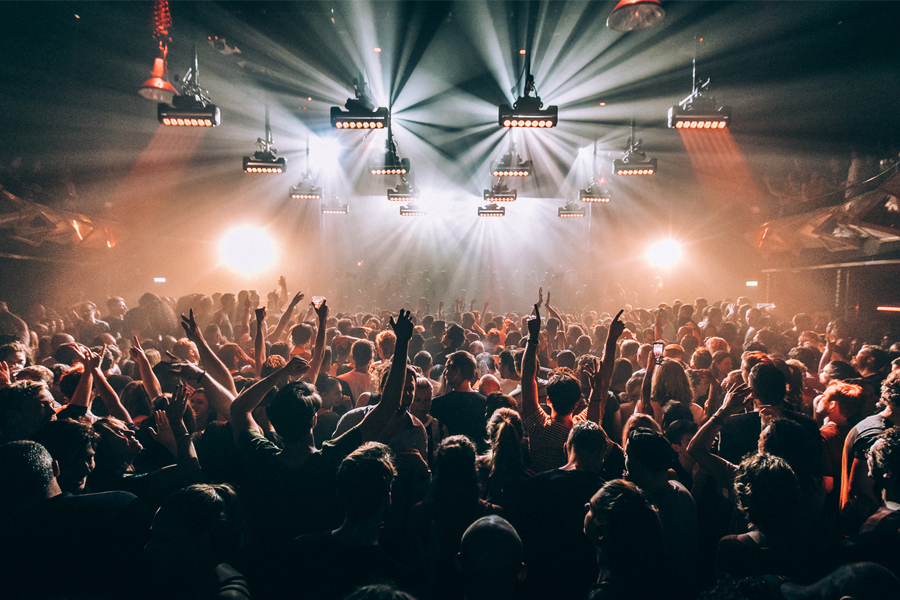 Since Amsterdam girls love to party and drink, with the fags and booze, everyone gets excited and aroused, thus getting laid. You get their opportunity only when you visit the right nightclub where all the actions happen.
Below are some of the top nightclubs for hooking up and sex in Amsterdam:
The waterhole, a live music bar, and nightclub are located at Korte Leidsedwarsstraat.
De School, a former school building in West Amsterdam, converted to a nightclub, restaurant, and cultural complex. At this nightclub, you can find plenty of drunk tourists ready to have sex.
Club Up, located at Korte Leidsedwarsstraat presents, is young DJs and producers hangout spot where you can enjoy the company of cute people besides the blasting music.
The Box is a nightclub filled with liberal mindedness men and women ready to get wild and dirty. This hookup haven is located at Mekongweg. It's an even bubbling fun spot.
Escape, in Rembrandtplein, city center is a nightclub always pumping with fun and amazing entertainment.
Air is a big nightclub located at Amstelstraat. Here you can find open-minded people ready to explore the night with you without holding back.
Amsterdam Brothels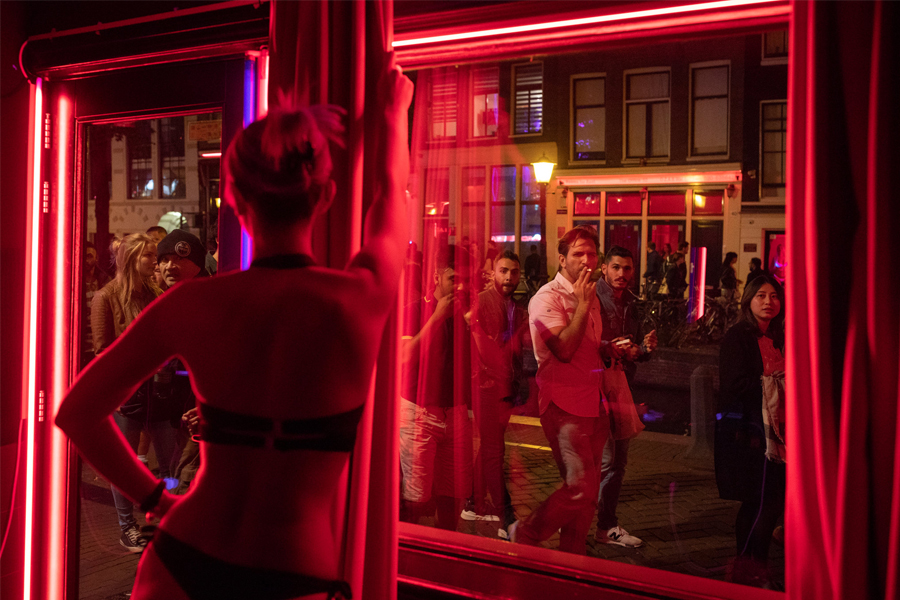 Brothels in Amsterdam red light district and other parts of Amsterdam offer quality in-house prostitute services. From the waiting room to your allotted room, the service remains private. So, if you are a tourist looking to have sex in Amsterdam without jeopardizing your privacy, you may visit any of the following best Amsterdam brothels:
Club Luxury
It is a top-quality brothel with eight rooms, a bar, and a lounge area. It contains standard rooms decorated in five-star hotel style, with three having a jacuzzi included. All eight rooms have a king-size bed, bath, and shower with air-conditioning and responsive room service. Club luxury opens between 10 pm to 7 am every day.
Crystal Club
It is a popular premium package brothel. It is located in a converted canalside mansion house between the Heineken Brewery and the Rijkmuseum. This modern bordello has many luxuriously appointed rooms with a king-sized bed, jacuzzi, and flat-screen television.
Each room has individual girls who work; the rooms are spacious, comfortable, clean, and decorated to aid erotic actions. The club provides you with 16 exotic ladies that offer services ranging from basic massage with oral to full GFE. Crystal Club opens between 8 pm to 5 am daily.
Club LV
one of Amsterdam's oldest luxury brothels, is located at Middenweg 144, Amsterdam. Although situated in a residential area, it offers quality discreet service with limited off-street parking available. Club LV offers clients standard rooms and skilled, intelligent, attractive, and attentive, beautiful ladies.
You can find their arrays of enchanting girls on their website. Club LV Opens seven days a week from 8 pm to 5 am.
Prive 42
It is a private brothel away from the main crowds of the central area of Amsterdam. It is located close to the Andreas Ensemble. This brothel's unique feature is its several themed rooms, including a 'luxury' VIP suite with a jacuzzi bath.
The private house has girls from various origins, including Russian, the Netherlands, Romanian, and Thailand. Their ages range from 22 to 36, with different specialties and skills. You can call or visit their website for more details about their pricing range, current menu selection, and more.
Prive 42 opens every day of the week between 10 am – 11 pm on Monday to Friday and 11 am – 11 pm on Saturday and Sunday.
Park 118
It is a reputable private house that provides top-notch brothel services together with special kink offers. Park 118 has a dedicated room in its basement for BDSM play like Mistress Throne/Leather bondage chair in the shape of a high-heeled shoe; Luxury fucking machine with dildos and artificial vagina (masturbator); Steel Doggy Bench Deluxe with optional dildo holder; Black Leather Andreas bondage cross; Sex Sling and Large double bondage bed (black leather).
Pictures of Park 118 stable of ladies can be found on their website. They open seven days a week, Monday to Saturday from 11 am to 12 am and Sunday from 12 pm to 12 am.
Erotic Massage Parlors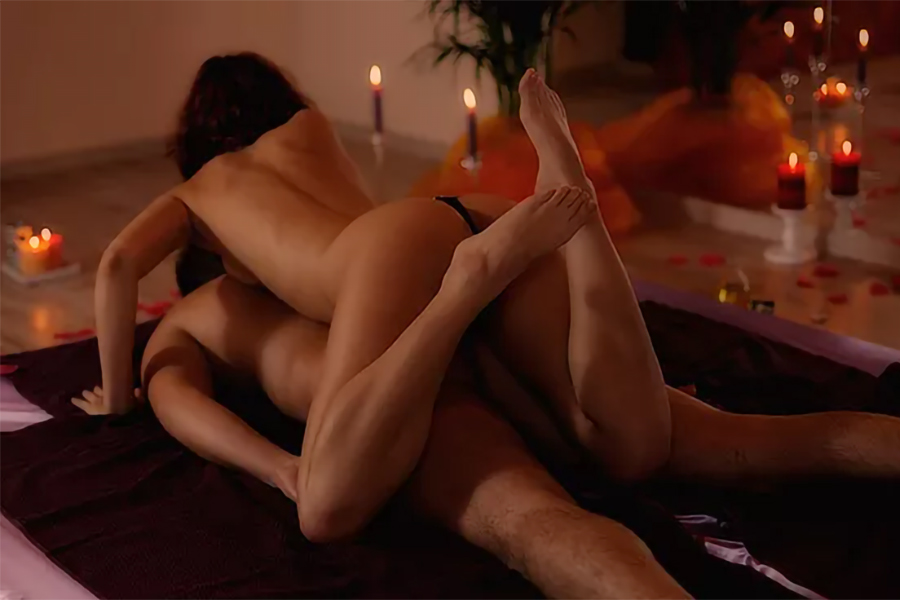 You can get an erotic massage in Amsterdam through dedicated erotic massage parlors, independent masseuses, escorts, and private houses. Some private houses specialize in Kinky massage with oral and intercourse, while others only offer a manual happy ending. Here is a list of the best erotic parlor for massage and sex in Amsterdam.
Walaphan Thai Massage
The massage parlor is located 15km to the west of Amsterdam at the quiet industrial road and runs a private service. The team of masseuses consists of eight Thai girls of varying ages and experiences, each providing erotic massage.
The massage duration is between 30 minutes and 90 minutes, and the price range is between €55 – €150. For erotic massage alone, prices are between €55 – €120. For VIP massage (with intimacy), the price is between €100 and €150. Walaphan Thai Massage opens between 11 am – 10 pm Monday to Saturday and 11 am to 8 pm on Sundays.
Massage Company
This massage parlor offers skilled and friendly ladies that provide you with the happy ending of your choice. Massage company also offers outcall service in your hotel room in and around Amsterdam. Massage Company opens every day between the hours of 2 pm and 5 am. Their packages cover Tantra, four hands, and sensual touch.
Your message may be performed either topless or nude depending on your preference and can include a full service based on your choice. The duration of their services ranges between 60 – 120 minutes. The prices for these services are available up request.
Dam Square Babes
This escort agency provides outcall massage service to most Amsterdam hotels. Their packages cover Tantric, Nuru (body slide), four hands, and standard nude, erotic massage therapies. Dam Square Babes parade some sexy, skilled, and experienced ladies.
You can check out these hot ladies as well as their rates and specialized skills. Dam Square Babes pricing starts at €150 per hour and goes up to €500 per hour based on your choice of masseuse. It's best to provide a minimum of one-hour advance notice for bookings.
24/7 Massage Amsterdam
It contains the list of licensed masseuses that provides outcall massage services. Each profile has several photos and details of the masseuse's services, including additional information about the masseuse. Their duration of service can be between 30 and 90 minutes and are available 24 hours a day, seven days a week.
Service rates vary based on the masseuse you choose, what massage you require, and whereabouts you need your outcall booking.
Sex Clubs in Amsterdam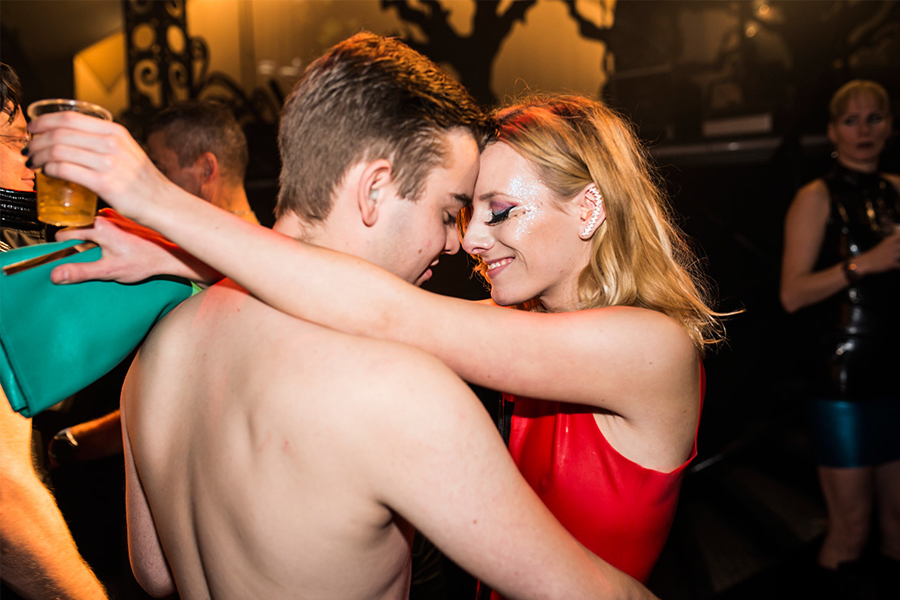 Sex clubs, unlike brothels, are more specialty venues. A different kind of sex club is available in Amsterdam that caters to swingers, BDSM, among others.
Amsterdam Swinger Club
Top swinger clubs in Amsterdam include:
Club Paradise
Situated in the north of Amsterdam, welcomes single men, women, and couples to their swinger's parties. Club Paradise has a full-sized heated pool, a sauna, Turkish bath, and a large relaxation area. There are also private playrooms, a small bar, and smoking areas.
The price range for the venue includes couples, €50; Single ladies, €25 and single guys, €80. Open hours are Wednesday and Thursday: 8.00 pm to 1.00 am; Friday and Saturday: 8.00 pm to 3.00 am, and Sunday 4.00 pm to 1.00 am.
Sameplace
It is located on the west of the city, a short walk from the Anne Frank House. The swingers club has a dungeon with toys and furniture for group play like a glory hole and sling. The sameplace club opens every day.
Showboat
It is a two-deck swingers venue that offers a fun-filled erotic night out. The lower deck is a dungeon, sauna/steam room, and jail cell with a shop selling naughty toys, while the upper deck has a huge dancefloor and bar. The club opens Thursdays, Fridays, Saturdays, and Sundays.
The entrance fee is free for couples and single ladies, but they have to pay a minimum bar to spend while single men pay a cover charge on top.
Strip Clubs
La Vie Deux
It is located at the south of the red light district a short walk from Rembrandt Square, La Vie Deux runs a unique traffic light system over the bar. The light indicates a dancer's current status.
Greenlight indicates dancing for everyone; amber light is available for a lap dance for €10; a red light means you can pay for off panties dance at €20. The club opens on Thursday: 8.00 pm to 3.00 am, and Friday and Saturday: 8.00 pm to 4.00 am.
Banana Bar and Club
It is situated at the center of the red-light district. The entertainment on the first floor includes table tips and pole dancing, while the upstairs club features strip entertainment and scantily clad waitress service. The entrance to the bar cost €60 while that of the club costs €25. The venue opens on Sundays to Thursdays from 8.00 pm to 2.00 am, and Fridays and Saturdays: 8.00 pm to 3.00 am
Sex Shows
Top sex shows in Amsterdam include:
Casa Rosso
The theatre is located at the heart of De Wallen. The sex shows feature erotic dancing, naughty tricks, and light BDSM. The theatre opens seven days a week from 7 pm to 2 am Mondays to Thursdays, and 3 am on Fridays and Saturdays.
The entrance is €35, or you can buy a drinks package for €50, which includes four free drinks tokens. The club is very popular with stag and hen dos, with hens being admitted for free if they are dressed up.
The Sex Palace Peep
It is the last remaining traditional peep show in Amsterdam. The sexual acts are viewable from either the main cabin or the private cabin, which shows more explicit content. Make it a duty to tour this historic place when you visit Amsterdam.
Moulin Rouge
An erotic sex theatre located at a historic side house in the red-light district. The shows change daily and feature couples sex, vibrator show, and female striptease. Entrance at the show costs €25 or €35 with four drinks tokens. The show opens Monday to Wednesday: 8.00 pm to 2.00 am and Thursday to Sunday: 2.00 pm to 2.00 am.
Escorts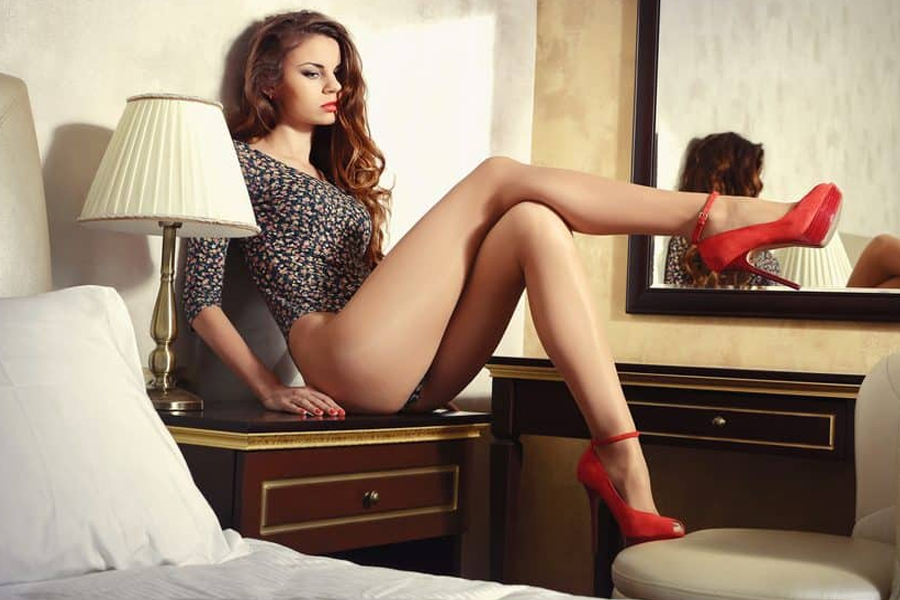 Not all tourists that visit Amsterdam are comfortable with public watching of window girls. Some prefer to have the action right at their home. That's what we have, the Amsterdam escorts. Escorts in Amsterdam either work with an escort agency or an independent escort.
There are many legal escorts agencies and independent escorts, making it hard to identify the best. But not to worry, you can discover the best Amsterdam Escorts and call girls on smooci.com (the best escort site to find the best escorts in Amsterdam).
You can use Smooci.com to find desired escorts; the site contains profiles of various top Amsterdam escorts, including enchanting girls, gays, transexual, and lesbians.
How to Get Around Amsterdam?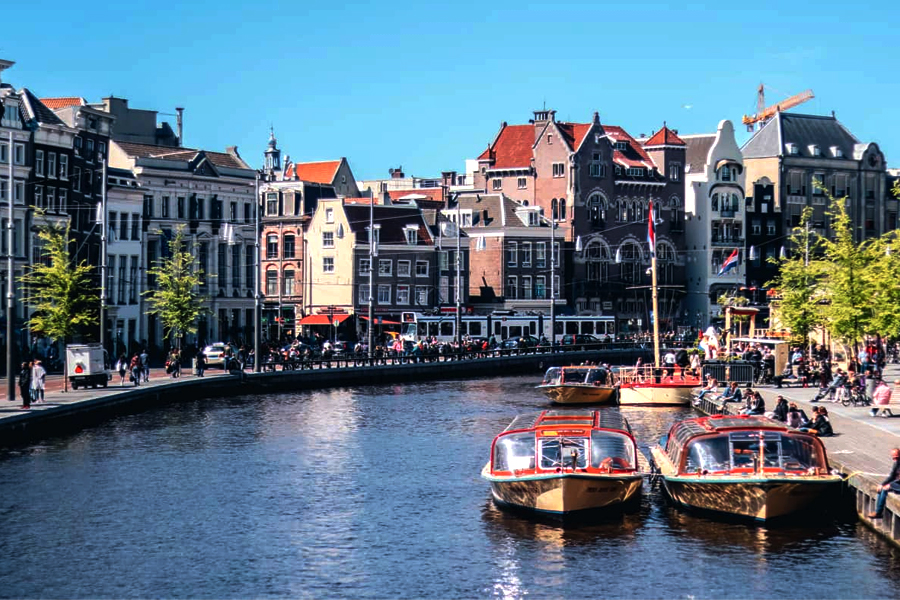 You can get around Amsterdam with ease by local buses, trams, metro, or suburb buses. If you are moving should distance within the City of Amsterdam you can use the taxis. You can also rent a car to conveniently navigate the city of Amsterdam with the aid of Google Maps.
The train can also be used to move around Amsterdam. Ultimately, since Amsterdam is full of canals, you can spice up your Amsterdam adventure with a boat ride around the city.
How to Stay Safe?
It is vital to state in this Amsterdam sex guide that despite Amsterdam being famous for sexual adventures, the city has a relatively low rate of HIV. However, you still need to prioritize your health safety. It's best always to use condoms when having sex with a stranger.
Chlamydia is a come disease in Amsterdam. Other STIs also exist in the City of Sin. Also, whenever you're at main shopping streets, in trams, at train stations, or anywhere where tourist congregations are, be sure to take precautions scams, baggage theft, and pickpockets.
Conclusion
Having thoroughly read our detailed Amsterdam sex guide, you can be sure of a wonderful, unforgettable experience in Amsterdam. Whenever you visit Amsterdam, make sure you make the most of your stay, capture the memory, and most importantly, stay safe.